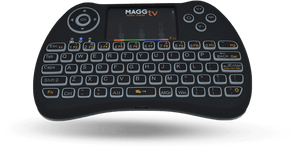 World's Best Mini Wireless Keyboard
Mouse Combo Specific Multi-media
Remote Control with Touchpad function
Handheld Keyboard  

FOR A LIMITED TIME ONLY WE ARE OFFERING A MAGGTV KEYBOARD BLACK FRIDAY DISCOUNT.. GET YOURS WHILE IT LASTS!!
Buy Mini Wireless RF Keyboard Mouse Combo Online
A mini wireless keyboard and mouse is a convenient product for people on the go. It's super easy to use, featuring a multi-media remote control, wide compatibility, touchpad functions, and more excellent features.

It also has a connecting receiver, allowing you to insert different devices and establish an internet connection. The wireless mini keyboard and mouse combo also includes an auto sleep and wake feature, saving battery so your keyboard can work longer.

If you need a mini keyboard mouse combo for work on the go or enhanced portability, it doesn't get better than the MaggTV 2.4 GHz Mini Wireless RF Keyboard Mouse Combo! This mini wireless keyboard mouse combo is ideal for people who like to get work done on long commutes or do business in all sorts of places.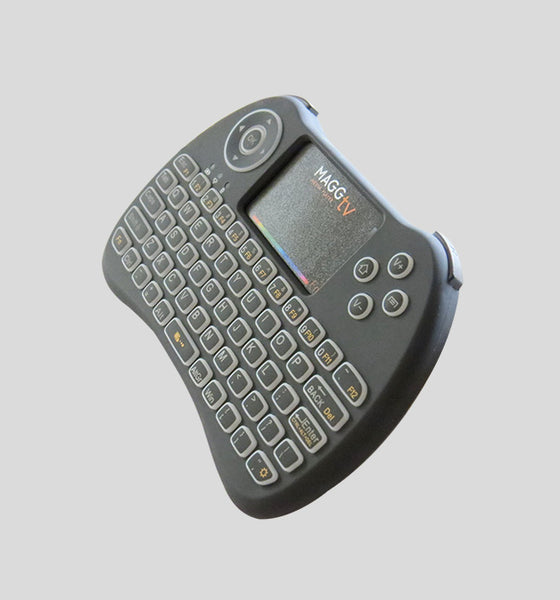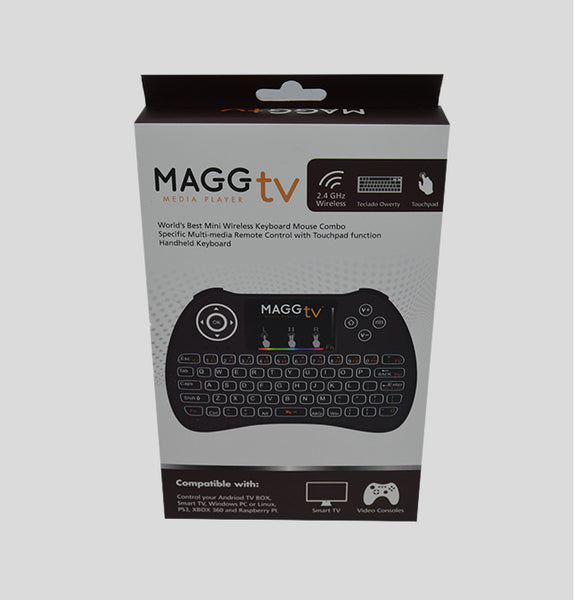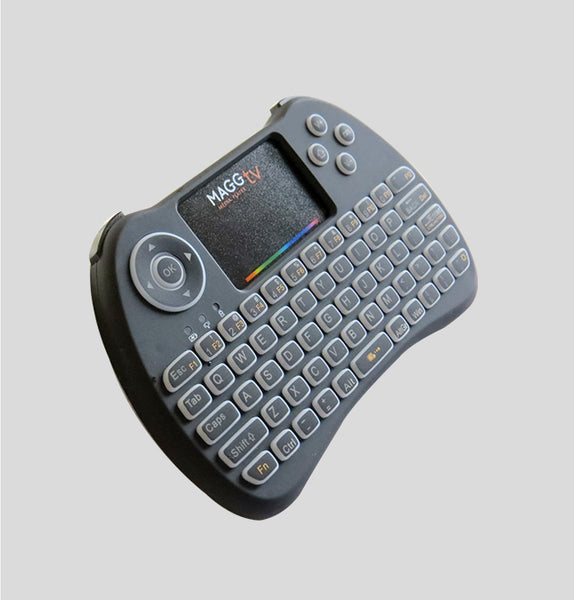 Easy To Use
World's Best Mini Wireless Keyboard
Mouse Combo Specific Multi-media
Remote Control with Touchpad function
Handheld Keyboard Compatible with:
Control your Android TV Box, Smart TV, Windows PC or Linux,
PS3, XBOX 360and Raspberry PI, PAD/PC etc.
Portable, Elegant & Lifestyle choice!
Meet the golden section of the mini-size,
enjoy the full-size keyboard, the main function, enter the insert
message. URL and search text, without leaving your sofa or seating.
Perfect control PC, Smart Phone
Entertainment Features You can use it for emails, chat or enjoy your favorite games. It is compatible with desktop or notebook computers running Windows or Linux, but also with handheld running Android, Windows Mobile Pocket PCs, etc.
It also supports the Sony PS3. Use it with your HTPC on your sofa or browse the internet in the most comfortable fashion.
Wireless RF Mini Backlit Keyboard Features:

Touchpad
The touchpad supports multi-finger functions. A single finger click as left mouse function, two-finger click as the right mouse function, double finger drag as the rolling screen. Easily browse the internet and play games.

Connecting the Receiver
Slide the receiver out from the side of keyboard, and insert to the desired devices with standard USB interface. Once connected, slide the power switch to the "ON" position located on the left side of the unit to establish the connection.

Auto Sleep and Wake Feature
The Wireless RF keyboard also features an auto sleep and auto wake mode. The keyboard will automatically turn onto the sleep mode following 3 minutes of inactivity. During the sleep mode, the user can wake the unit up by pressing any function key. The 2.4GHz receiver and keyboard's RF indicator will continue to flash and will not power down.

Applicable Systems
Windows 2000
Windows XP
Windows Vista, Windows CE,Windows 7
Linux (Debian-3.1, Redhat-9.0,
Ubuntu-8.10, Fedora-7.0 tested)

Appendix Technical Operation Specification
Measurements (L*W*H):140*90*16mm
Weight(grams):100g
Operational Range: up to 10 meters
Transmit power: +5db Max
Operation voltage:3.3V
Operation current:<50mA
Charging current:<300mA
Sleep current:<1mA
Battery capacity: 300 mAh
What our customers are saying
Sabertooth has earned 5 stars in the App store and on Google Play, and is also top-rated by Supermoney, Clearance, and others.

50,000+ customer reviews
Robert P.
I am really impressed! It works perfectly and is quite accurate. Great product.
Matt Williams
After testing it for a few days, I must say I am so pleased. Such a good translator. Thank you Sabertooth!
Kelly S.
Bought it for a travel trip and it made our experience so much better. We were able to buy items and order food easily. I'll be sharing it with my friends!
Dave Parker
Packaging is great and the product is well designed. I tested with several languages and my colleagues were surprised at how well it worked. I look forward to using it on trips!
Annie Robinson
I was kinda skeptical at first but after trying it out, I'm glad I got it. After a few setups, it worked perfectly.
Keith Harris
Such a good buy! It was easy for me to setup and it fits well in my ears. The product itself feels high quality and I love the case too.
Katherine
I love it! It works great! I've been using it for my Youtube videos. Great hands-free device. I highly recommend this.
Marge Newman
It helps me take photos and videos easily so I'm really happy with this purchase. I like that it's portable and easy to carry everywhere I need to shoot.
Samantha P.
Since I travel often for business, I wanted to protect my data and any confidential work files. I really like how I can plug it in most of my devices like my computer and phone.
Tom Baker
It works well. I am able to charge my device at airports and cafes now without having to worry about picking up a virus or losing my data.